Way back in the day, when I first started doing homebrew, I made a batch of "Cock Ale." This was a recipe I found in the back of an ancient and dog-eared public library book on homebrewing, which purported to be a traditional beer made with a boiled chicken. The theory being that the protein and nutrients from the chicken would bring up the alcohol level. The kicker to the recipe was the claim that the chicken completely dissolved into the beer.
People loved that first batch of beer. Unfortunately the original recipe went AWOL, so I had to re-create it from several sources.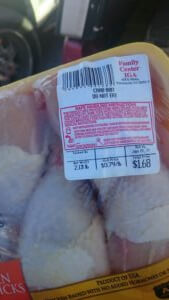 Step 1:
Make a broth of chicken, about one gallon.
Ingredients
14oz of chicken, diced
Cloves, 6 whole,
Mace, 1/2 tsp
Nutmeg ,1 tsp
After the broth has stewed, refrigerate it overnight, gunky bits and all. Skim the fat the next day. Bring broth to a boil and add to the sterilized carboy hot, to wait for the wort.
Step 2:
Make an ordinary stout but with dried fruit.
Ingredients
Fuggles hops, 3/4 60min, 1/4 5min
9 lb pale ale (BE)
2 lb maris otter pale
.75 lb chocolate
.5 flaked barley
.5 carapils
2 pounds of raisins
.5 pounds of dates
Calculated ABV came out to nearly 10%. I left it in the carboys almost three weeks. I've only had a few tastes so far, but even after a week in the bottle it's pretty carbonated and tastes pretty smooth. The spices are the most apparent flavors, but there's definitely a slight odor of chicken broth.
And although I can't say for sure, because there was a lot of sludge at the bottom of the first carboy stage which I didn't search through, but it seemed like nearly all of the chicken had dissolved.
A spooky Halloween beer recipe for you!