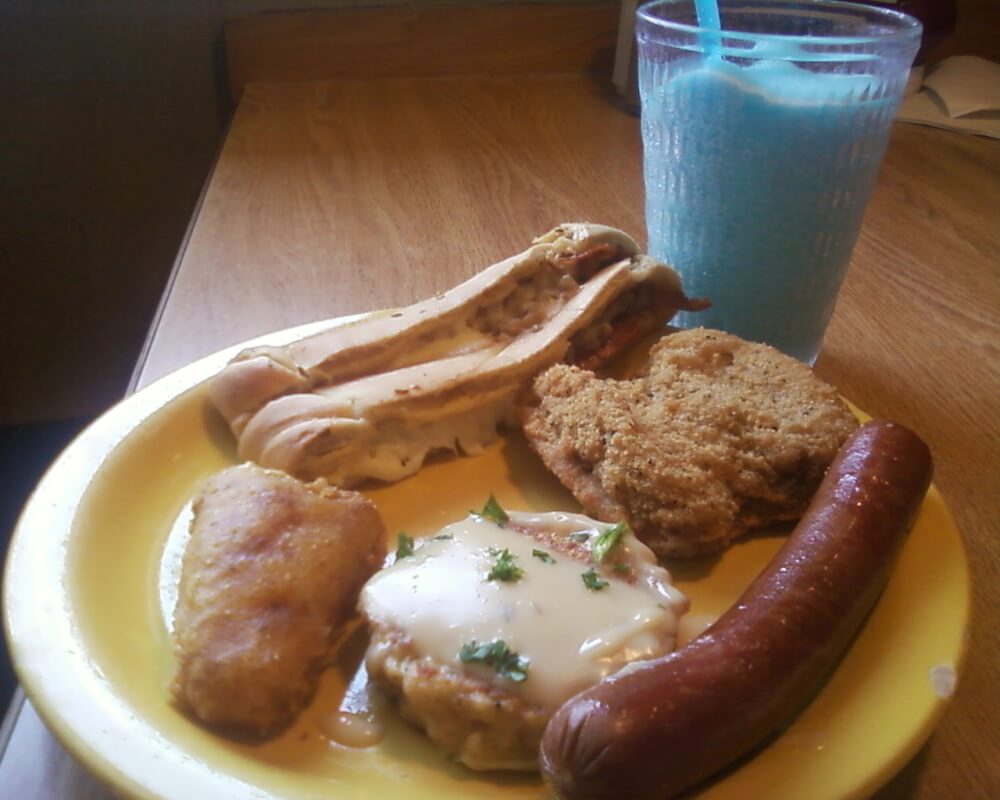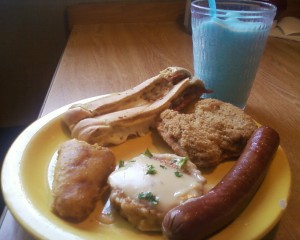 The last time I was in the Twin Cities, my grandparents took me out to eat at the Country Kitchen. If there is any all-you-can eat buffet that stands head and shoulders above the others, it would be Country Kitchen. I feel that the selections don't have the sad fried-intensiveness of the buffets below the Mason Dixon line.
When I am at a buffet like this, I feel that I am an artist, and that every plate is my canvas and the steam trays of food are my paints.
For the first masterpiece I assemble, I go for a general theme of meatiness, but work to draw out the conflicting elements. A piece of processed fishstick lies down in peace beside a sauce-drowned crabcake (not real thankfully, no allergic reaction) and a lone hotdog, it's unadorned flesh temporarily elevating it to the status of "sausage." A puck-shaped chicken-fried steak, nearly a Salisbury steak in this context presides over the affair, with hot calzone slices backing it up.
A final note of surrealism is struck by the blue-flavored slushee drink, looming in the background as a final condemnation of any pretention of naturalism.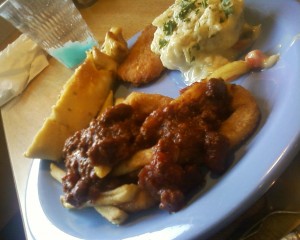 For the second plate, the theme of carbohydrates dominates. A slop of beaned chili (this is how you know you are in the North) recklessly drapes itself over a pile of French fries. A "hot dish" casserole sits on the side, and a processed piece of fish makes a repeat appearance along with another slice of piping-hot calzone.
But these plates are simply the preliminary chords that build to the crescendo of dessert. First we build a palette of puddings and soft serve. The texture of smoothness is melded with the chewy experience of gummy bears.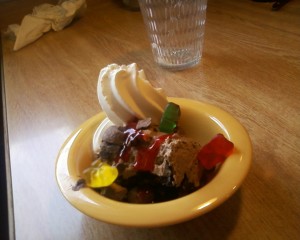 But wait, this sensual chorus is not yet over! Because this is an all-you-can buffet, there is one more trip, a taboo-shattering second visit to the dessert table. Here we find not just another bowl of soft-serve, but a liberal dosage of chocolate candies, whose crunchiness catapults the artist into the promised land of buffet Valhalla.