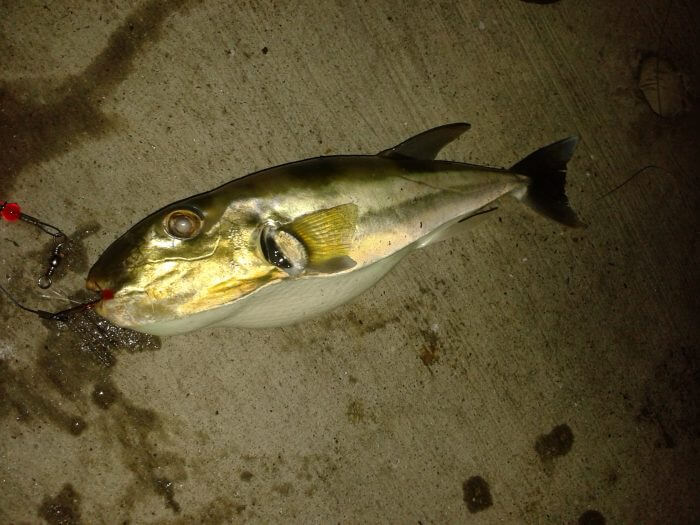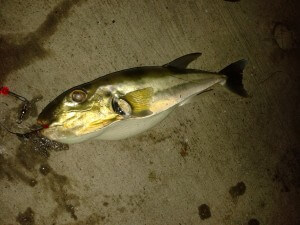 This is a post which is open pandering for a fish identification. Over the weekend I was fishing off the Caldwell Pier in Port Aransas. It was about one in the morning and just a little after high tide. I caught the fish at about the third guts, about seventy feet south of the pier. It bit on a couple of previously frozen piggy perches rigged two feet from the bottom. When I was reeling it up, I thought it was just a whiting, because it was about the size of a large one. It wasn't until I had it on the deck of the pier before I realized how odd it looked.
The gold color is an artifact of the camera and the light conditions, in real life it seemed more silvery, like a mackerel. I don't recall the eyes being walleye like that, but they could have been.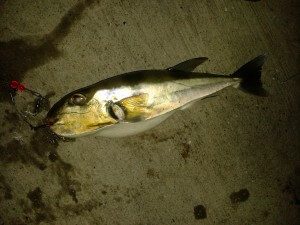 After I took its picture, I decided to use the stainless steel forceps to get the circle hook out. And it's a good thing I did, because it started biting the metal with an audible crunching sound. Its mouth wasn't very big, but it was crowned with some Nosferatu bunny fangs and some finger-amputating strong jaws.
Any rate, I threw the thing back, and neither the guy at the bait shop and the guy at the tackle shop recognized it. So now I'm asking the internet in general.
Edit 11/11/13:
I posted this fish to the forum 2coolfishing.com and it was the general opinion of the gentlemen there that this was a smooth puffer.