Just when you think you've seen every weird movie out there, you find another. Mad Monster Party?, a 1967 stopmotion movie that is so old school that it features a Peter Lorre homage character and an homage to Phyllis Diller, which is played by Phyllis Diller herself.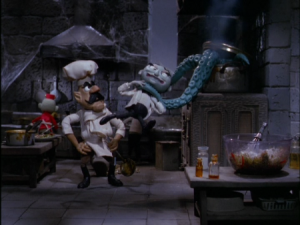 The plot is unimportant. It's a sort of an Abbot and Costello meet Frankenstein by way of Jerry Lewis sort of thing. I'm sure that in 1967 the humor was cutting edge. But since then we've invented irony.
This is a fun little stop-motion animation, but apparently it's also a book
.