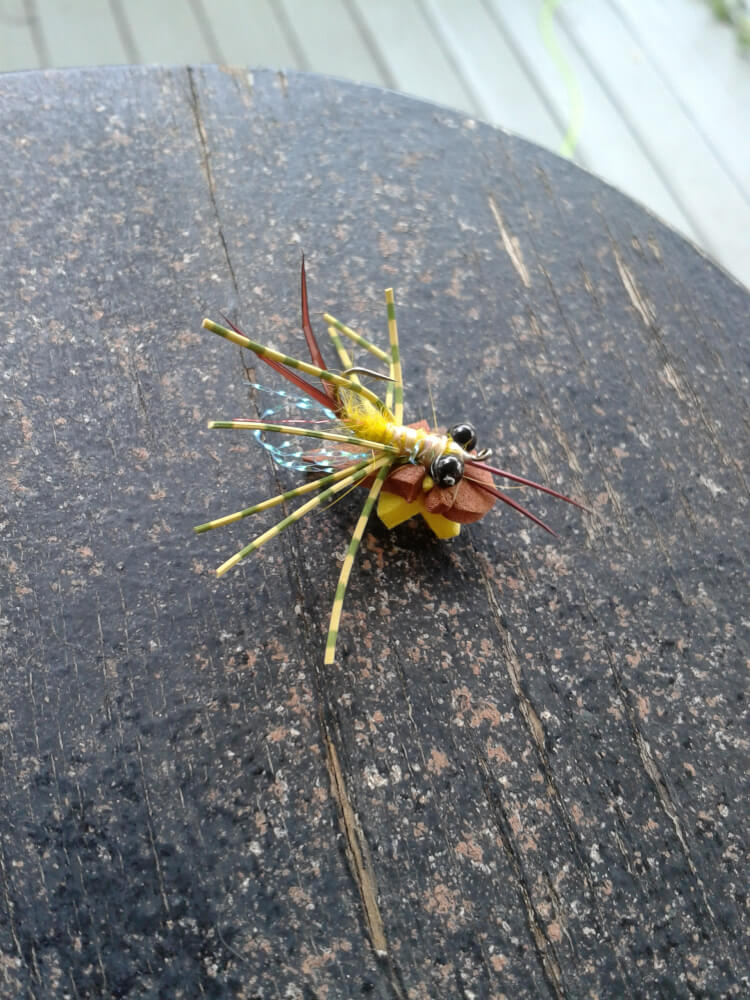 The foam Gaga Spider takes all the delicious, buggy elements of sub-surface nymphs, and combines it with the fast and furious top-water action of a foam spider.
Ingredients:
size 14 to 18 dry fly hook
beige thread
small plastic barbell eyes (optional)
brown goose biots
yellow/chartreuse crazy legs
brown and yellow foam
yellow dubbing
Aqua flash" instructions
Instructions
For this fly-tying recipe, start the thread on the hook size of your choice. Tie on the barbell eyes. If you use these, they should be a light material, not the sinking barbells. At each end of the hook, tie on the goose biots to form antennas. Starting at the curve of the hook, twist on layers of the yellow dubbing until you build up a buggy nymph-like body. At the body's midpoint, tie on three to four rubber crazy legs. Fold the flash into a bow and tie above the legs. Then fold the flash back and tie it so it angles back from the midpoint like the wings of a fly. The final layer is the foam, which is tied at the very top. Don't go overboard with this, you only need enough foam to keep the hook floating. I would recommend a brownish layer to give a naturalistic presentation to fish observing it from below, and a yellow layer on top to make it easier to spot against the surface of the water for anglers observing from above.