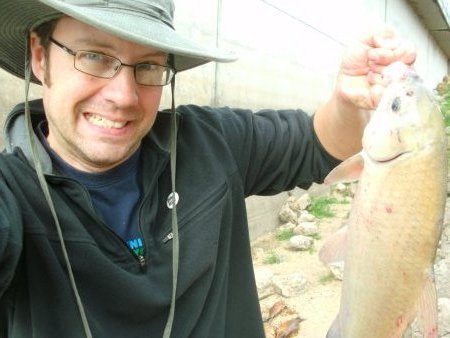 The co-workers of fishing team's very own Chad had been talking up Granger Lake as a heaven on earth filled with more white bass than you can shake a pole at. So the two of us got up at the crack of dawn one Saturday morning and drove into the wilds of East Texas.
The lake and dam are a wonder of massive civil engineering. The Army Corps of Engineers created this massive earthen dam and the massive concrete spillway thrusting through its center.
But unfortunately there were no white bass. Just schools of carp, crowding the surface of the water and flapping their rubbery lips in the air. Dead carp and gar lined the shores of the slough, filling the area with an abattoir stench.

I caught two carp, essentially by accident. One bit on a treble hook crammed with catfood and another bit on a nightcrawler. I wouldn't have known they were on the line if I hadn't tried reeling it in. They were some lethargic, zombie-like piles of scales. Yet they were the biggest fish I've caught in years, so I thought I might as well keep them.

I took the carp home and actually tried to clean one. But I quickly discovered that the fish was only scales, blood, bone, and guts. So they became the next best thing. Garden fertilizer.