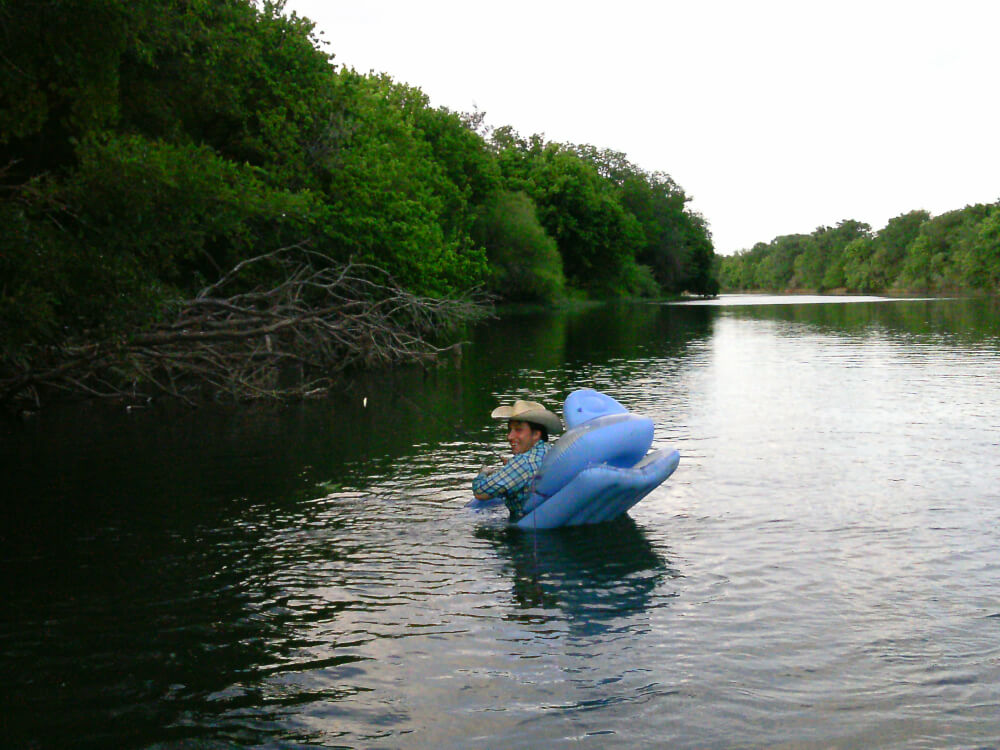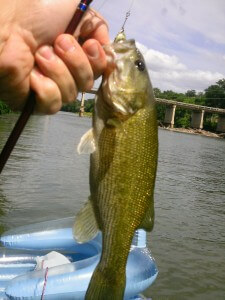 When the weather's right, the fishing team will head down to the old Colorado River for a little swimsuit fishing. Now that I've had some more experience with the Colorado, I would have to compare it to Lady Bird Lake, in that it's convenient, but it's also likely to give you a good fishing day just about as often as it completely shuts you out.
But if you get into the right spot, you can get into some decent largemouth bass action. The largie in the first photo here was caught on a spinner cast out into the center of the stream. There was no particular finesse to it, it was simply a matter of keeping the lure in the water for as long as possible.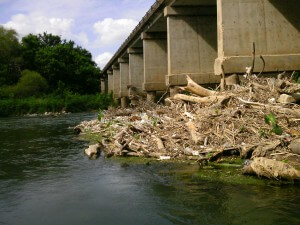 One of the more interesting sites in the Colorado is the bridge which crosses down by Austin's airport. A pile of detritus and bleached sticks lies across the upstream side. There is at least as many manufactured objects in the pile as there are natural. I tried walking across it in my aquasocks and it felt spongy, because the whole mass was floating. I didn't stay long. I had visions of falling through and drowning, my body held underwater by rusty nails and half-crushed bottles of polyethylene terephthalate.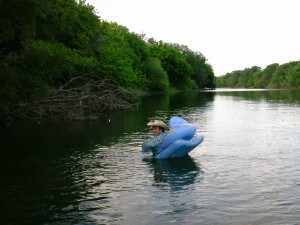 Third Degree and I went on a semi-epic wading trip during the heat of the summer. You can wade for a kilometer at a stretch along the Colorado, but then there's that ten-meter section where it's up to our neck. For those deep sections I brought along my inflatable chair, a surprisingly versatile piece of aquatic hardware.
We stood on a steel pipe which crosses the river and cast into a hole on the downstream side which was known to hold some big bass. When Third Degree caught his precious mini-Rappala on an overhanging tree on the far side of the hole, the only solution was to put him on the inflatable chair and drift him after the lure on the end of the tether.
I hope you can appreciate the level of coordination I had to exert in order to take a picture of Third Degree with one hand, hold a rope so he wouldn't float away to Bastrop with the other hand, all while balancing on a slippery pipe while thigh deep in a swift current.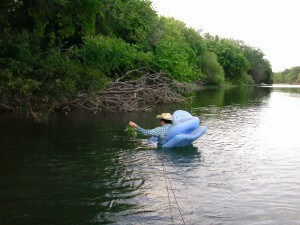 I'm not saying it was tough for me, I just want you to appreciate how other people would find that tough.