SPACE SQUID'S AUSTIN GUIDE
This is probably the most lauded thing that Space Squid has ever done. There's been several incarnations, produced as publicity materials for various cons, but this is the latest version, as a giant PDF file. Nowhere will you find a guide to the great city of Austin that better illustrates everything they don't want you to know.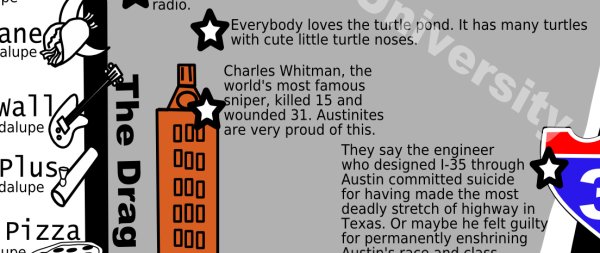 PIZZA ROBOTS
What the hell was I thinking?

Episode 1

Episode 2

Episode 3

Episode 4

Episode 5

THE ADVENTURES OF CIRCLE AND ALMOST CIRCLE

A comics series I did for the Texas Rawhide. It was back in the days of pen and paper and photocopied templates. As I recall, only the first three of the series ever saw publication, the rest were held in reserve for a publishing run that never materialized. I like to think of Circle and Almost Circle as an exploration of Aristotelian epistemology and the works of Heraclitus. But, you know, funnier.
CIRCLE AND ALMOST CIRCLE WALK INTO A BAR

I don't know if this should be glorified with the title "spin-off series." It's more like a particularly low-brow intellectual experiment gone awry.

Dave Steele, M.D.: Field Proctologist

Speaking of low-brow experiments gone awry, here's another comic I did ostensibly for the Texas Rawhide. The editor's comment: "That's raw. We'll publish it when we can afford a lawsuit."

Corrosive Leprechaun

Offensive? Maybe. Because it's true.

Gag cartoons

Bergman
Gitmo
- home - Comics - Project Emu - Writing - Mississippi - All about me -
-Zombie Lapdance -Space Squid -
- RevolutionSF - Sasona Co-op - St.Ingvar's Healing Mysteries - APLC -